4Front Louvres recognised for design excellence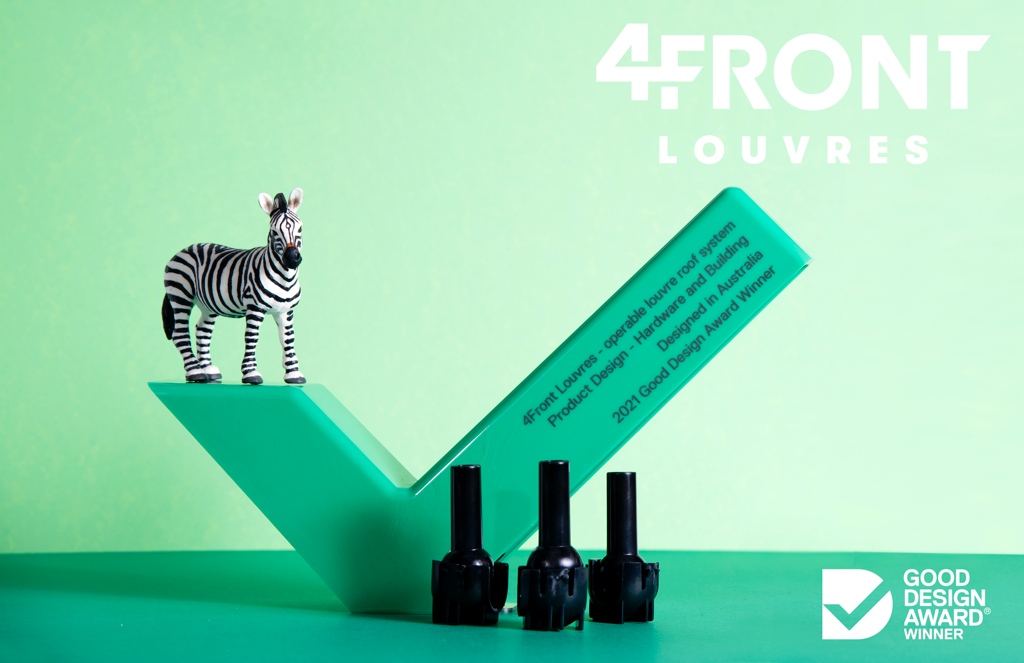 The 4Front Louvres roof system has been selected as a 2021 Australian Good Design Award Winner in the product design category. The Good Design Award accolade is among the most respected and recognised international design endorsements in the industry.
4Front Louvres competed against products designed and developed around in the world, with entries judged by an independent panel of international design experts. This year's judging panel included representatives from Engineers Australia, MIT, General Motors and Fisher and Paykel. Each entry was evaluated against strict design criteria around form, function, safety, sustainability, quality, commerciality and innovation.
'We're thrilled to receive a Good Design Award. It's a huge honour and an accolade that really recognises our achievement,' said 4Front Louvres co-owner and director Kim Uren.
The win is an incredible accomplishment for the company, coming just four years after they initiated the product design process.
Kim and Martin Uren founded 4Front Louvres when they became dissatisfied with the louvre systems on offer for their own home and the problems they encountered after installation.
'It ticked lots of boxes for us, but we weren't 100% satisfied with the louvre system we bought. And it just kept getting worse over time. We knew there had to be a better way,' said Kim.
The Urens developed a comprehensive design brief that focused solely on the outcomes they wanted from the product, rather than fixing issues or building on existing louvre designs. This 'clean sheet' approach was founded on best practice design principles and led to the patented Duroball™ mounting system – just one of the innovative features used in the 4Front Louvres roof solutions.
'We wanted to design a beautiful product that perfectly balanced form, function and sustainability, without breaking the bank,' said Martin Uren, 4Front Louvres co-owner and director.
The Good Design Awards Jury clearly agreed that the Uren's efforts had paid off, stating: 'This is a low noise, low maintenance and environmentally friendly product. The innovative design, impact and adjustment capabilities are very compelling. The system also has a clean and refined style.'
The main components (aluminium and plastic) are recyclable and the louvres can increase the energy star rating of a home by offering passive heating and cooling options. Ease of use was also front of mind in the design process, not just for customers but for installers and repairers as well.
'It really is the biggest innovation in the outdoor louvre industry since the 80s. There's nothing else like it on the market and it's everything we've dreamed of in an outdoor roof system,' said Martin.
Martin and Kim believe they've only just scratched the surface of the product's applications. They have two different louvre blade products available, SingleFin™ and DualSkin™, with a third product, LumoFin™, being developed which will include integrated LED lighting. The company has also secured a national distribution deal in partnership with a major industry retailer.
"It's really just the start of the journey for us, not the end."
About 4Front Louvres
4Front Louvres is an Adelaide-based company that designs and manufactures louvred roof systems. Founded by Kim and Martin Uren in 2017, the company has patented a new mounting system and developed distinct louvre blades that come together to form the perfect louvred roof system for residential homes and commercial buildings.
For more information about 4Front Louvres's systems visit https://www.4frontlouvres.com.au or contact Kim Uren (0411 201 284) or Martin Uren (0401 126 150).
2021 Australian Good Design Award Winner Product Design Category entry details
Project Title:
4Front Louvres - operable louvred roof system
Designed in:
Australia
Project Description:
4Front Louvres is an innovative, fully automated and opening louvred roof system. This Australian designed product provides users year-round comfort, control and protection in outdoor spaces. This louvred roof system is suitable for use in both residential and commercial applications across all Australian conditions.
Designed by:
Martin and Kim Uren
Commissioned by:
Martin and Kim Uren
About Good Design Australia and the Australian Good Design Awards
Good Design Australia is an international design promotion organisation responsible for managing Australia's annual Good Design Awards and other signature design events. With a proud history that dates back to 1958, Good Design Australia remains committed to promoting the importance of design to business, industry, government and the general public and the critical role it plays in creating a better, safer and more prosperous world.
www.good-design.org